What could make a breakfast filled with yummy cereal even better?  Comic books included in that meal!  Yes, you read that right, I said add comic books to your child's breakfast and they will be happy.  Thanks to Big G Cereals, you now have help doing this.  Right now, in specially marked boxes of Cinnamon Toast Crunch (17 oz.), Lucky Charms (16 oz.), Honey Nut Cheerios (17 oz.), Trix (14.8 oz.), Golden Grahams (16 oz.), Reese's Puffs(18 oz.) and Cocoa Puffs (16.5 oz.), you can find a DC comic!  Plus, on the back of these boxes is a super cool cut-out mask for your own superhero to wear.
Johnny thinks these comics are "too cool" and has been carrying them around and asking for them to be read for some time now.  He was even excited to get another (there are a total of 4) when we opened up the latest box of Honey Nut Cheerios.  I would like to encourage you to add some fun to your kiddo's breakfast by looking for these Big G Cereals and sharing these great comics with your child.
Thanks to General Mills and DC Entertainment, I have the pleasure of giving one of you a super fun prize pack that we received.  Johnny was so excited to see this and I bet your child will be too!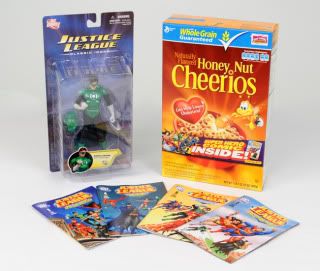 One winner will receive:  1 box of a participating Big G cereal, 1 set of the collectable DC Super Hero comic books, and 1 Green Lantern action figure.
How to enter: The mandatory entry must be completed in order for all others to count.  All entries must be recorded into the Rafflecopter widget.