I can't believe it has already been 2 months since my baby was born. It seems to be going so fast. Figures it would work that way since this is my last baby. *sigh* She is doing great… lots of smiles and has been "talking" so much. Nothing makes my heart melt the way her coo'ing does. She is such a sweet baby.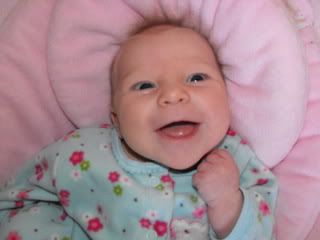 Johnny has been so great with her lately. He has started getting her paci for her (which she really isn't interested in, but whatever). He hates when she cries and holds her paci in her mouth and tells her "it's okay baby sissy". So cute!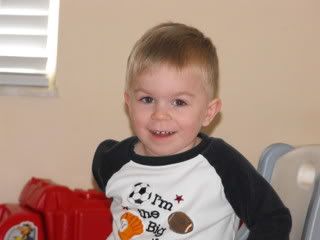 The depressing news of the day is that I think my cycles have started again. I just wanna scream out… WHY???? I was hoping with breastfeeding that I wouldn't have them for awhile. I am still not 100% sure that is what is going on but the bleeding hasn't stopped the last couple days. I am so irritated. I probably need to make a call to my doc before my insurance runs out in case he wants to see me.
Tayler got her permit awhile ago but hasn't been driving any. I know she drove her aunt's car before she had her permit, but never our vehicles. I let her drive my van yesterday. She wrecked. She ran it up onto a curb and then into a big rock. The bumper is all scratched up and there is a nice-sized hole in it. 🙁 I am sure that isn't going to be cheap to fix.
Well, I am off to lay down with baby girl. She hasn't been sleeping today at all. I am hoping that laying down with her will help.