As you all know by now, I am breastfeeding Jemma.  In the past 6 weeks I have learned a few things… I love breastfeeding her and I don't have enough bras.  As any nursing mom knows, nursing bras are often not pleasing to the eye.  In fact, they are downright ugly.  Also as any nursing mom knows, having your belly out in the middle of winter while feeding your baby is not fun.
I was sent a few items from Leading Lady that have made both of those issues better for me.  First, let me tell you a little about the company.
Leading Lady is a premiere intimate apparel company dedicated to creating comfortably functional, remarkably affordable, stylish and easy-to-wear bras, camis and sleepwear. A family owned and operated business, Leading Lady has been expertly tailoring nursing and full figure bras for top brands and retailers across North America for more than 70 years. For the first time, Leading Lady's comprehensive line of nursing and full figure intimates – including sexy stretch lace wire-free and underwire bras, supportive and seamless sport and yoga bras, and cozy sleep and leisure bras – can be purchased directly on LeadingLady.com.

Leading Lady is proud to celebrate "Leading Ladies" everywhere through its products, programs and philanthropic activities. Leading Lady is dedicated to arming new moms with the support – physically, intellectually and emotionally – they need to nurture their babies through breastfeeding and committed supporting a variety of organizations and issues relevant to women across the country.
Now, sadly they didn't have much in my size.   But, the one bra that I did get in my size is pretty cute I think.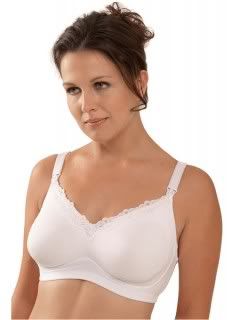 I have found this bra, the Lightly Molded Seamless Lace Edge Wire Free Nursing Bra, to be very affordable at only $12.00 right now (only $30 regular price).  I also find it to be very comfortable but it is not a bra that I would wear everyday.  If I were a smaller bust size, this bra would be perfect.  But, my chest is heavy and the outer layer and bra itself are not sewn together so the outer layer falls some with my weight.  I love this bra to sleep in though because it is so comfy on.  I really wish my chest weren't so large because I do love the bra but after some time on, I feel like my chest is hanging out more than it should be.
The other item I was sent is the Nursing Bra Cami with Inner Sling.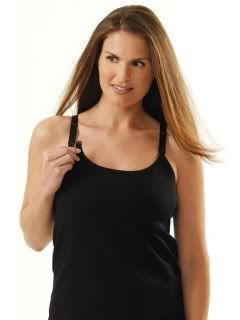 This item is also very affordable at only $27.20 right now (regular only $32.00).  This cami washes up very nice and is very soft and comfortable.  I wish it were a bit longer because it doesn't go over my hips as much as I would like.  This tends to be a pretty common problem I have had lately though so I don't hold it against this product.  I like wearing camis to bed often because they are so easy to use and there is not pulling up my shirt to nurse.  I don't own nursing pajamas so a cami is the best option for me.  I also like to wear them when the weather is warm or under shirts.  Camis are great because they keep my belly covered when I am nursing.  I really like to wear a bra though so a cami is basically used when I don't have another shirt on top of it.
Even if you aren't a nursing mom, you should check out Leading Lady.  They have a ton of affordable options in bras for a full-figure and nursing women.  I for sure will be back to purchase after I am done nursing this time and want to get some new bras.  I could get more for my money and that is always important to me!
Be sure to check them out!  You can also follow Leading Lady on Facebook and Twitter.
Disclosure: We were given the product mentioned for the purpose of review. All thoughts and opinions are my own.