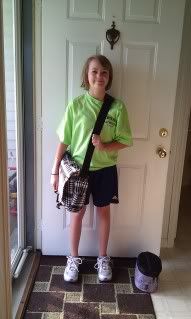 Today marked the first day of middle school for Kenzie.  She was ready to go back and seemed excited about starting a new school.  She woke this morning, did her chores and was ready to go!  Her bus comes an hour earlier than it did last year but it works okay because we will have to get Johnny to school before her and I will be dropping Kenzie off at school after that.  She will probably get there at the same time as her bus.  She will only be taking the bus on days Johnny isn't in school.  It stinks but my kids have different school schedules and are rarely off at the same time.  It is going to be an interesting year!
About the hospital visit?  I called my doctor yesterday to let him know that the antibiotic didn't seem to be working.  He was concerned about a more severe infection so he sent me to the hospital for a workup.  A urine test and several hours later and I still don't fully know what is wrong with me.  They don't believe that I really have an infection anymore; or at least not an infection causing my symptoms.  My urine did show a bigger potential problem.  The doctor said that if the antibiotic doesn't clear up the symptoms, I likely have a kidney stone.  After she and I talked and I had time to digest that, I believe she is right.  The medication for spasms is not working at all leading me to believe it isn't spasms at all.  The back pain is unexplained except that it is very similar to what I had when I had stones years ago.  It is all becoming very familiar.
So, they released me on another antibiotic and I am to talk to my doctor next week when I see him.  I have to take my 3 hour glucose test tomorrow so please think good thoughts about that for me!  I really hope to pass it.