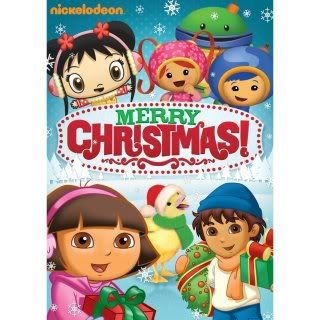 Are you ready for Christmas yet? Well, whether you are ready or not, Christmas is coming! Kids can now get ready for Christmas with this fun DVD set, Nickelodeon Favorites: Merry Christmas!  My son said that he won't watch it until after Halloween but I think he may be a chip off the ol' block because I am the same way.  My 2 year old though has been all about this DVD set lately and that is because all of her favorite characters are in it!
Nickelodeon Favorites: Merry Christmas! Synopses:
Dora the Explorer – A Present for Santa
It's Christmas Eve and Dora and Boots are going all the way to the North Pole to deliver a present to Santa.  They must travel over the snowy mountains and across an icy river, but by the end of the journey, everyone is filled with the holiday spirit.

Go, Diego, Go! – Diego Saves Christmas!
When Santa's sleigh gets stuck under a snow hill, Diego enlists the help of Linda the Llama to pull the sleigh out of the snow.

The Wonder Pets! – Save the Reindeer (Double Length Episode)
The Wonder Pets are celebrating Christmas Eve when they get a call from Santa's baby reindeer.  They head to the North Pole and find her stuck on ice.  It's up to the Wonder Pets to save Christmas!

Blue's Clues – Blue's First Holiday
Mr. Salt and Mrs. Pepper give a special holiday present of two home videos that show Tickety, Slippery and Joe as babies.  Viewers also see when everyone met Blue and played Blue's Clues for the first time. Guest stars: Wynona Judd and Tyrese.

Team Umizoomi – Santa's Little Fixers
It's Christmas Eve and someone calls in on the Umi Alarm from far away… it's Santa Claus! Santa's toy-making machine is broken and Team Umizoomi must help fix it.

Ni Hao, Kai-lan – The Snowiest Ride
Kai-lan wakes up to see snow blanketing the whole backyard. After borrowing a sled from Yeye, she gathers all her friends together to sled down a hill.  Everyone is excited except for Tolee and Kai-lan must help him overcome his fear of sledding.
Joley said her favorite episode was the Wonder Pets because of the reindeer but I have seen her engrossed in these DVDs for some time now. She likes to learn with Dora and Diego and often sings along with all the Nickelodeon characters. This would make a great stocking stuffer for any Nickelodeon lover on your list.
This DVD set is available in stores now for the suggested retail price of $14.99!
Nickelodeon DVD has kindly offered to give one of you a copy of Nickelodeon Favorites:  Merry Christmas of your very own!
How to enter: The mandatory entry must be completed in order for all others to count.  All entries must be recorded into the Rafflecopter widget.