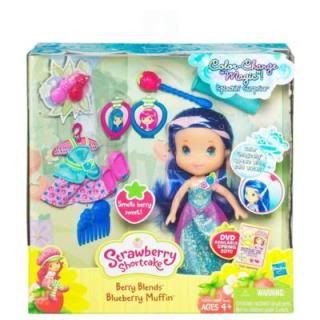 I have told you all before how much I loved Strawberry Shortcake as a child.  What I love even more though is that she is back with all her friends.  Joley and I watch Strawberry Shortcake on TV all the time; nearly every day.  We love Strawberry, Peach, Blueberry, and all the other super nice friends.  When Berry Blends- Blueberry Muffin Doll arrived, I knew that Joley was going to flip to have one of her favorite characters right in her hands to play with.
I have to watch the pieces that came with Blueberry because they are small (recommended for age 3 and over) and will disappear in our house.  Her ice wand creates a very fun effect with Blueberry… touch it to her hair and the color changes!  Her hair can be styled with the barrettes that come with her and her little outfits to change into is so cute too!  Joley will enjoy many hours of playing with Blueberry, making her hair change, and seeing her in different clothes… over and over again.
Blueberry comes with 2 dresses, 1 pair of shoes, 2 barrettes, comb, ice wand, ice wand container, paper photo frame and paper hanger accessories.  You can purchase her for the recommended retail price of $14.99.  I would totally recommend Berry Blends Blueberry Muffin Doll or any other in the Strawberry Shortcake line if you have a little one interested in the fun show or characters.  Or, if you are like me and loved Strawberry Shortcake as a child, buy one for your little one and let the magic happen again for your child.
Disclosure: We were given the product mentioned for the purpose of review. All thoughts and opinions are my own.