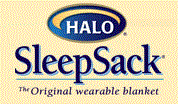 September is Baby Safety Month, sponsored annually by the Juvenile Products Manufacturers Association (JPMA).  This year, Halo wants to ensure that you (and I) know all about swaddle safety.  Swaddling safely means two things… one, that we avoid suffocation and two, that we prevent Hip Dysplasia.  Years ago, when Johnny was a baby, we were faced with a possibility that he had Hip Dysplasia due to the conditions of his birth.  Thankfully, he did not have this condition.  Also thankfully, we can all work to prevent this from happening to our children simply by swaddling them safely.
Hip Dysplasia is one of the most common conditions among newborn babies, affecting about 1% of North American newborns (about 75,000 per year). According to a recent survey conducted by HALO Innovations, 82% of parents choose to swaddle, and swaddling improperly can lead to Hip Dysplasia or dislocation. Treatment ranges from wearing a harness or brace to undergoing surgery. These conditions can get worse with age and are linked to early adult arthritis and hip-replacement surgery.

The American Academy of Pediatrics is urging Pediatricians to watch for signs of hip dysplasia and dislocation and to warn parents not to extend their baby's frog-like legs straight when swaddling. There's a temptation to stretch the legs out and that needs to be resisted. They need to be able to straighten themselves out naturally and gradually. Parents should allow for room in the swaddle – or sleepsack – for baby to bend at the hips.
As parents, we do all we can to keep our kids safe. Swaddling properly should, of course, be one of those things that we do.  Halo has special interest in this cause because HALO's SleepSacks and Swaddles are the only products on the market approved "hip healthy" by the International Hip Dysplasia Institute.  What an honor, right?
Dr. Charles Price, Director of the International Hip Dysplasia Institute, has recorded the following video about Hip Dysplasia and how to swaddle safely.  Here is that video for your information:
Also, Dr. Tanya Altmann, Pediatrician and Mother, provides tips for swaddling safely in this video, specifically about avoiding suffocation. Here is her video:
Both of these are great videos and I encourage all new parents to check them out.
We have a newborn size Halo Sleepsack Swaddle and it is really a great product.  Not only is it made from a soft fleece, but it is also easy to use.  It may seem a bit overwhelming at first but take a second to look at it and you won't be disappointed.  If you come to a point where you no longer need or want the swaddle, you can remove it and use the Sleepsack wearable blanket alone.  It has soft  and adjustable fastener strips that make it easy to adjust for your growing baby.  You can choose to have baby's arms in or out of the swaddle.  It is unique that it has a special design that keeps the fabric from gathering near the baby's face so there is no unnecessary concern of suffocation.
I love that the Halo Sleepsack Swaddle keeps baby warm and comfortable with the sack design.  I also love the ease it gives to change diapers with the inverted zipper.  Those late-night diaper changes are a breeze thanks to that.  The Swaddle comes in sizes Preemie, Newborn and Small and works for children up to 6 months old.  You should discontinue the swaddle feature immediately if the baby shows signs of rolling over, shows signs of not wanting to be swaddled, or show signs of breaking loose of the swaddle itself.  Remember though, with the Halo Sleepsack Swaddle, you can remove the swaddle feature and you still have a Sleepsack!  You can purchase a Halo Swaddle for $26.95 and up.
Halo would like to offer one of you a Halo Sleepsack Swaddle in honor of Baby Safety Month.  The winner will be able to choose either the newborn or small size and their choice of gender (female, male or neutral)!