One thing I know a lot about is sippy cups. With children from infancy to 12 years, I have tried more cups than I care to admit. I mean, if I put all that money into a bank account, I would be one right person. The problem with that is that there are a good number of cups that I did not like… just a waste of those precious dollars. When I was offered a chance to try the Tommee Tippee Sippy Cups, I was all ready! With a new baby embarking on the sippy cup journey, I wanted to know if there was one we could be truly happy with.
The Tommee Tippee Explora cups we were sent were actually a stage above where Jemma needs but I was happy to let Joley and Johnny give them a try. I have been very happy with the cups. They do not leak, the lids go on well, the kids like them, they have great designs, and are dishwasher safe. We haven't had a single problem with the cups, lids or valves.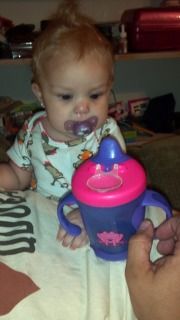 We now have a Tommee Tippee Explora sippy cup for Jemma that we bought ourselves. She is so excited to be able to hold her own cup and has a huge smile on her face whenever she gets her sippy cup. I have seen her reaching for the other kids' cups in the past few weeks and figured it was time to let her have her own. She is sure happy to have one!
One thing that makes the Tommee Tippee cups even better is that they can now be bought at Target and on Target.com! All I have to do is run up to my local store and I can find any of the Tommee Tippee cups!! Be sure to check them out for yourself.
I have one set of Tommee Tippee Explora Sippy Cups to give away! You can enter twice by following the directions below:

Disclosure: I wrote this review while participating in a blog tour by Mom Central Consulting on behalf of Tommee Tippee Sippy Cups. I received a Tommee Tippee Explora Sippy Cup product as well as a promotional item as a thanks for my participation.