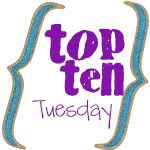 I am really feeling out of it today. I should be posting my top 10 ways to find a doctor without insurance, but I don't know how to do that. Wish me luck!
Anyways, this is my Top Ten Tuesday:
Top 10 Websites I visit daily…
1. Gmail – My email is the first thing I check everyday and usually the last as well. I also now check it on my blackberry. It is an addiction.
2. My blog – I come here daily to talk to you! There is always so much going on in this chaotic house that there really is never a shortage of things to talk about. You should follow me. (wink wink)
3. Twitter – Oh my, Twitter. I follow Twitter on Tweetdeck and on my blackberry on Uber Twitter. Can you say another addiction? You can follow me there too. (nudge nudge)
4. My school info site – I go there to check on my financial aid, check my school email, see any updates or whatever. This will become much higher on the list starting next week.
5. Swagbucks – I log in daily to get my swagbucks. I already have $10 in Amazon gift cards. It is so easy. You can sign up too if you are interested. So simple… and who doesn't love free money?
6. Google – My other search engine. I love Google for images and great results.
7. Google Reader – Do you sense a theme here? (I love all of Google) I can't function without my Reader. I check it daily for updates on all the blogs I love. While I don't usually get to them all everyday, I try.
8. My friend Kara's Blog – I always check on what Kara is up to because she doesn't share everything with me when we talk. I have to find out good stuff by her blog. 😉
9. The Pioneer Woman – Not a day goes by that I don't check this blog. I love Ree and her photos and her kids and her horses and and and… yeah, I love The Pioneer Woman!
10. Impress Your Kids – I spoke about Impress Your Kids before. This is a site I check out daily, without fail. It is such an inspiring site.
For more Top Ten Tuesday posts, head over to Oh Amanda!
While you are here, check out my Safe Sippy 2 Giveaway!