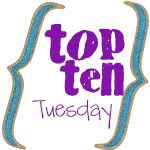 Top Ten Reasons Why I Realize I Need More Sleep
I woke up tired. I woke this morning and felt like I hadn't slept a wink all night. Thanks Joley!

I put the cookies in the fridge. Yep. I bought plain ol' cookies and instead of putting them in the cupboard, I set them in the fridge and didn't think twice about it.

I can't remember things from one minute to the next. What am I supposed to be doing? What was I talking about again? Oh yeah… why I need sleep.

I remember to do things as I lay down in bed at the end of the day. That seems to be the only time my mind shuts off long enough to let the important (or not-so-important) things through.

I have no recollection of what day it is. I often think it is Wednesday when it is Tuesday. I normally don't give myself extra days… more of thinking the week is going faster than it is.

My body is starting to function on less and less sleep. I can sleep for 4 hours or 2 hours and still be able to get up and take care of Johnny and Joley. Is that good? Probably not.

I often nurse Joley at night and don't remember. I will wake up half-dressed and then realize that she has eaten at some point. Thank God I wake when she does or this might be painful! (she isn't so gentle when she latches on all the time)

What was I saying again? Oh, reasons I realize I need sleep. I am desperate for a nap everyday. I would take one every.single.day if I could. Someone tell Johnny he needs to nap. Okay?

I forget to pay bills. This is a big one. I have started writing things on my calendar to make sure I don't forget.

When I get to sleep in until 8am I am ecstatic! Sad. I used to be able to sleep so much longer. Joley wakes often at night still though, so 8am is like a dream!
Head over to
OhAmanda
to add your Top Ten Tuesday post!