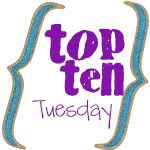 This week's Top Ten Tuesday is going to be all about dreams. Well, the dreams where I win the lottery and get to do whatever I want with the money… you know, because that is so realistic and definitely going to happen. Whatever. I can dream.
So, here goes… what I would do if I won the lottery:
1. Buy a new house. I love my house but I would love more to have some land and some privacy. I may or may not stay here for awhile. It would just depend. I would love to call the mortgage company though and be like, "oh yeah, I want to make a payment. How much you ask? All of it!"
2. Buy my parents a house. My parents have done so much for me, they are high on my list of people to take care of.
3. Buy my sister a house… if she wanted it. I may be a tad crazy, but I think it would be cool to have some land and my family, my sister's and my parents on the land. We wouldn't have to be right next to each other, but close. I would love that.
4. Buy new cars. I would want a new(er) mini-van. Yes, I want a mini-van. There isn't much else that works to cart around so many kids. I am sure Mike would want something small. I probably wouldn't buy Tayler a new car simply because she is 16 (mean, right?).
5. Pay off all our debt. This should have been up at the top but I got excited at the prospect of not having a house or car payment.
6. Finish school. I really would. I would still want to be educated even if I never had to work again. I would likely just do charity work or something instead of a paid job.
7. Buy that Mac Book I have been wanting. 🙂 Silly, but this is something I will likely never get simply because of cost.
8. Buy myself a new(er) fancy schmancy camera. I would probably still get a Canon but would upgrade to something newer and with more features. Oh, and lenses. I would buy lenses!
9. Give money to animal shelters (in addition to rescuing some more animals). Animals tug at my heart strings so this is something I would love to do. I would also give money to various other charities to help women and children.
10. This last one is a bit more complex but it just popped in my head. This wasn't on my original thought out list. I would hire a personal trainer and chef… you know, like the celebs. I want to lose weight and them holding me accountable would be better than the poor job I am doing myself. I would also likely do a Lap-Band procedure. That is something I have looked into in the past and without a way of paying for it, I just can't do it. I would love to though.
So, there you have it. Those are my Top Ten this week. I could think of a million more things probably, but those are what came to mind first. If you want to participate or want to see more Top Tens, head over to Oh Amanda.