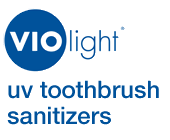 One thing I always think about is hygiene and safety.  To be honest, I may be a little obsessed about it.  But, as a nurse and mom, I think the odds were stacked against me on this one.  Regardless, I want my family to be safe and that starts with the things we use everyday, including our toothbrushes.  We have pets and a lot of people in and out of the bathrooms so I worry about how clean our toothbrushes really stay.  Thanks to the Violight Toothbrush Sanitizer, I no longer have to stress about this!
By using Germicidal Ultraviolet Light, which physically destroys the DNA of microorganisms, our award-winning Violight Countertop Toothbrush Sanitizer and Storage System will sanitize up to four toothbrushes at one time.
Violight prevents cross contamination of bacteria from one toothbrush to another, and even accommodates electric toothbrush heads. Its translucent cap lets you know it's working, and it includes a removable drip cup for easy cleaning.
With a one-touch start button, auto shut-off, and safety cap that de-activates the light if it's unlocked or removed, this Sanitizer is a must-have for those who are health-conscious.
This is a worrier's dream come true.  This holds all 4 of the toothbrushes we use in our bathroom in one easy to use place.   The kids' toothbrushes fit just as well as mine.  There is even an included insert to use for electric toothbrush heads.  After we all use our toothbrushes for the night, (use and rinse first), we simply press the button and walk away.  The description says and shows the translucent cap turning blue but mine does not do that.  The light does come on and it appears to be working but the color is a light orange.  Independent tests prove that Violight gets rid of up to 99.9% of bacteria living on your toothbrush.

I love the Violight Toothbrush Sanitizer!  You can purchase one from Violight for the great price of $49.95.  The bulb is rated to last over 2000 hours, and only needs replacing every one or two years, depending on use.  That seems like a great deal to me!  There are a number of other items available from Violight so be sure to check them all out.
Violight has kindly offered to provide one of you with their very own Original Violight Toothbrush Sanitizer; the same one I received!