Elvis has had a bad week.  He had his surgery (he was "fixed") this past weekend.  He is not at all happy about being stuck indoors, not being able to swim out back, and constantly being told to calm down.  I can't wait until he is healed and can resume his regular craziness.
This picture was taken the day of his surgery.  For the record, this is the only day he has been calm for more than a few hours!  He was wiped out from the day and the leftover anesthesia.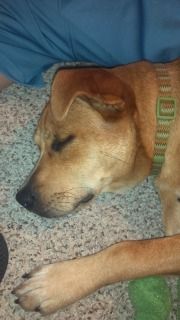 What do you have this week?