Time has gotten away from me. I have been sick, Johnny has been sick, Easter, blah blah blah. I just haven't posted.
I will be calling next week to make my appt for classes. I am excited and nervous! I am glad it will be online for awhile. I don't think I am ready to go out in the world for school yet. Johnny is signed up for Sunday school this fall so that is a good beginning for me to break those strings (read severe attatchment issues on my part). That reminds me… I still need to pay for that.
Johnny got pink eye last week. Ugh. Poor kid hates the drops and he is strong. I can't hardly do them by myself. He still has a small area that is red on his eye but hopefully it will go away. If not, we go to the doc next week for checkups. Sadly, I resorted to letting him have some chocolate bunny at 10am in order to get the drops in today. A mommy does what a mommy has to do.
I have been sick for the better part of a week. I think my IBS is kicking up again. This is really bad news as I have no insurance, no meds or any hope of it getting better. I will be starting some probiotics in hopes that helps. In the meantime, I am forcing myself to eat enough calories every day.
Johnny's birthday/Joley's baptism party is Sunday. I am praying for NO rain as there is a 50% chance of thunderstorms. Johnny decided on Cars theme so we will be having a Cars/baptism party. It should be interesting. I need to go order his cake tomorrow night and we need to get food. I am not too sure what to do there because we planned on bbq but if it rains, that won't be easy.
I can't believe my baby will be 3 on Monday. Seriously, where has the time gone? He has started to avoid naps. I am not happy with this and he really isn't ready. He is a terror at night if he doesn't get a nap. I hate fighting with him to sleep though. I just don't know what to do with him. Otherwise, he is great. He has the typical tantrums, but hey, he is almost 3. He is funny and has developed an awesome imagination.
Joley will be 4 months tomorrow. I am working on getting her into her bed for sleeping but it is a slow process and one that sucks for me because I don't want to have to get up to feed her. Right now, I am just trying for the long afternoon nap. As of today, she won't be napping on the sofa anymore either… rolling has apparently become second nature to her. She rolled onto the ottoman and then onto the floor. She is fine and it just scared her, but now I know that she won't stay on the sofa anymore. She is now laying in the pack n play and is not too pleased. Hopefully she gets used to it quickly.
Yeah, rolling. Here is a slideshow of her doing it.
Joley can roll!
While I love watching her do new things, she does need to chill a bit. She has started to do a semi-army crawl. She isn't up on her elbows, but she pulls with her arms and pushes with her feet and scoots across the floor. *sigh*
Easter was great except for the baskets still sitting on my counter. That is what I hate about holidays… the aftermath of baskets, bags, boxes, etc. for days. I wish they could all be like Thanksgiving where you enjoy family and eating without all the extras. I know, it is about the kids. I am grumpy.
Okay, a few pics to end this since she is still fussing and won't go to sleep…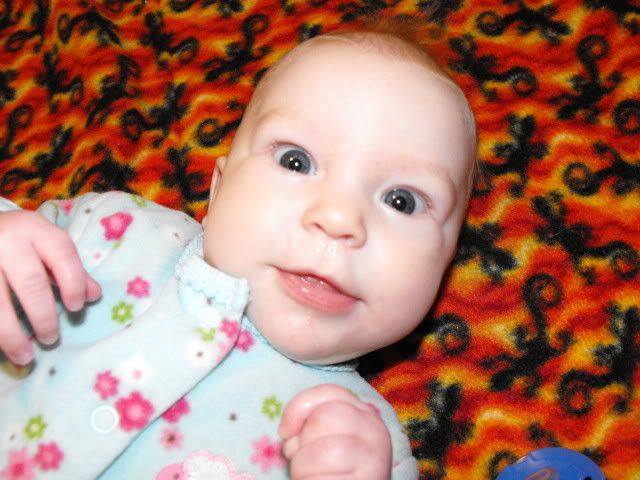 Johnny singing during the AI show…