(I didn't move. She wanted my lens cap which you can see in the last pic)
Here is a short video of her army crawling. 🙂 Please ignore my muppet voice. ha!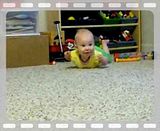 This is part of Wordless Wednesday. If you want to do a Wordless Wednesday post, go HERE or HERE or HERE or even HERE.