We made it!  The flight was not near as bad as I was working it up to be in my mind.  Kenzie and I held hands on the take off and landing but it was really not too bad.  There was some turbulence and a bit bump but not enough that we were worried.
We saw the Statue of Liberty on the way in and that was so cool!  I wasn't sure if we were going to see it or not.
Here is our plane…

Kenzie and I got a "first time flyer" certificate. The flight attendant was so nice to us both. She took the time to explain a few things to us and kept saying that everything was "not out of the ordinary".
Once we landed, we waited a bit and then met some of the other moms and daughters here. I was so happy to meet up with Connie from Brain Foggles finally. It was so great to finally meet some of the Twitter ladies too.
We got in a van and headed out. The girls were all surprised by little things like graffiti, the tunnel and the huge Starbucks.
After Skyping with my babies for a few minutes, we headed down to the Pop Art Pixies VIP party. We had some yummy food and then started some crafts. We both decorated these cool water bottles…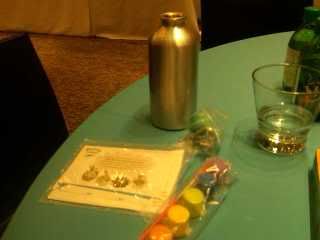 Then we worked on a bird house wind chime together…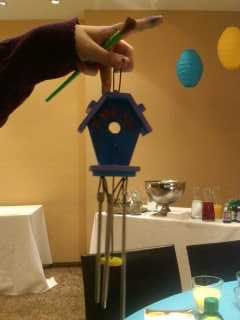 And finally, we both decorated some plates…
All of those crafts were completed in between bites of ice cream from the ice cream sundae bar. Yum!
On the way out, we got our Pixie Mail letting us know we had a voicemail when we got back to our room.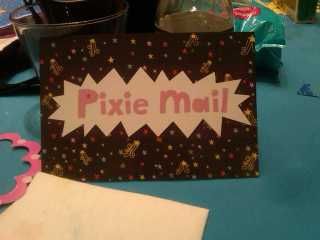 We headed back to our room and took showers. I couldn't stop myself though and we headed out to Times Square and the nearby jewelry district to just look around for a few minutes. Soooo crazy! I love it but am amazed at the amount of activity out there. It is so noisy too. Every 15 minutes or so we hear an ambulance or police car go by. I have a feeling we will both be tired after this weekend simply from lack of sleep. I am NOT complaining though.
Here is our room…


We are both so excited to be here. I am very proud of us both too for conquering our fear of flying and jumping into this experience.
Tomorrow is a full day starting with breakfast. Then we will be out and about all day. I did a lot of tweeting today and will tomorrow as well so follow me if you haven't yet to keep up with all the events of our trip.
We are so very thankful to Crayola for this fantastic opportunity. Kenzie and I both know that this is the chance of a lifetime and are both so excited to be here and be part of it.
Until tomorrow!!!