As I am writing this post, I am sitting on an airplane headed home for St. Louis.  I have eaten my cookies and drank my one soda.  Now, it is just a matter of waiting until we finally get back home so I can see my babies.
All the pictures you see below are from my Blackberry.  Over the next week or so I will get my "good" pictures off the SD card for you to see.  I am just truly too tired now.
What a whirlwind weekend we have had!  I was going to post last night but was truly too tired.  We did some really fun things throughout the day.  After breakfast and a quick Pop Art Pixies craft (we made necklaces), we were headed out for a New York City adventure.  Our bus was super neat, decorated on the outside as Pop Art Pixies and the inside with flashing and blinking lights.  There were 4 planned stops that all corresponded with one of the Pop Art Pixies.
Kenzie's necklace.
Our cool bus!
Our first stop was Central Park for the Pop Art Pixie, Skye.  Remember that wind chime from yesterday?  When we pulled up in Central Park, we found them all hanging from a tree.  We hopped into a horse and buggy and were off for a long and enjoyable tour.  We were able to get out and look around at the Bethesda Fountain and we were able to get some photos.
The wind chimes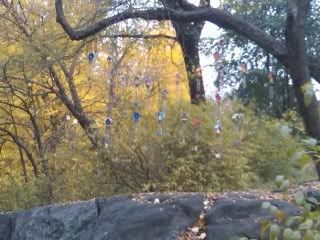 Here come the horses.
Kenzie and I on the buggy.
Our next stop was Magnolia Bakery for a tea party with Tatum, the sweets loving Pop Art Pixie.  We each had a sandwich and then the true fun began.  Each of us had the plate we decorated the day before to eat off of.  We were taught how to decorate cupcakes and then we were able to do it ourselves as well as eat the yummy goodness.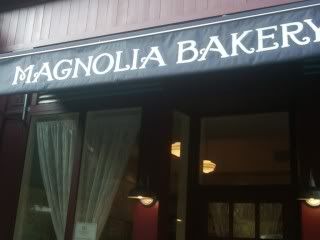 Kenzie and her new friend Rowe ready for lunch.  She has some candy in her mouth, she isn't scowling. 🙂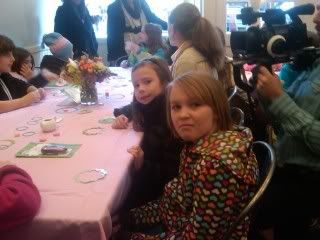 Kenzie trying to do the icing trick taught by the Margnolia Bakery girl.
After that planned stop, we stopped for about 45 minutes in Rockefeller Center.  I was hanging with Shannon Eis and her daughter Rowe all weekend (they are fantastic) and Shannon was able to give me some great places to check out.  I was able to walk down a block to the St. Patrick's Cathedral for some pictures and I lit a candle. That church is absolutely stunning.  I was amazed at all the beautiful architecture as well as the mosaics and sculptures.  The organ pipes were fantastic as well.
(pics to come soon)
After we were back on the bus, I found out we were going to MoMA in honor of Maya.  The Museum of Modern Art was fun.  Kenzie and Rowe were able to just hang out for a bit and enjoy having some fun in the "scream" area, which is not its true name but the place we were sent over and over when we were looking for the Scream painting (developed by Yoko Ono).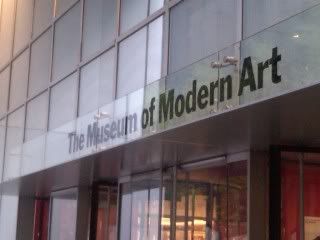 These are our new friends outside the MoMA, Shannon and Rowe.  Aren't they gorgeous!?!
Finally, we headed to our last stop.  Thanks to the Pop Art Pixie, Naomi, who loves music, we headed to the DJ Scratch Academy.  The girls made a color change lamp and then ate some dinner (we didn't though!).  Kenzie learned how to be a DJ and scratch like the pros.  She also was able to create a masterpiece of spin art on an album.  It was neat.
Kenzie and Rowe scratching!
At this point, the tour day with Crayola and the Pop Art Pixies was over.  But, Kenzie and I were in for another fun adventure.
Stay tuned for more…
A huge thanks to Crayola for sending us on this trip.  We love the Pop Art Pixies and are so thankful for the opportunity to meet other bloggers and wonderful women and daughters as well as see NYC!