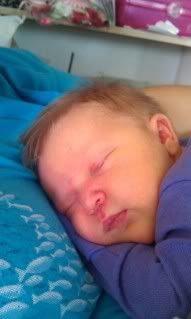 (taken with my phone)
We had an appointment yesterday to check Jemma's weight.  She was down 9 ounces from her birth at her first appointment and they wanted to make sure she is gaining okay.  They also wanted to make sure the jaundice is going away.
We had to see a different doctor since our pediatrician is on a mission trip in Nepal and thankfully, this doctor was just as nice as ours.  You always have to wonder but our doctor assured us that Dr. W is breastfeeding-friendly and would be good to see.  She was!
Jemma gained back 4 1/2 ounces in 3 days!  Her weight at our appointment was 7 lbs 3 1/2 ounces!  That means we don't need to supplement at all.  We go back next Monday to make sure she is back to her birth weight (they want a breastfed baby to be at their birth weight by 2 weeks of birth).  Her jaundice is nearly gone except a little in her eyes which Dr. W said may be the last to go.
Regardless, this was a great appointment with a super nice doctor.  Thanks for all the thoughts and prayers.  I am so hopeful that we are on the right track and Jemma is going to grow, grow, grow!