Happy Thanksgiving everyone!  I have a lot of great giveaways up right now.  They are all Rafflecopter… be sure to check them out!
Here is what I have going on right now!  There are some great gift ideas here too!
Nickelodeon Favorites: Merry Christmas! DVD (11/26)
Chuggington: The Chugger Championship DVD (11/26)
Xia-Xia Pet Crab and Shell (11/26)
Doodle Roll (11/26)
VeggieTales: The LIttle Drummer Boy DVD and O Holy Night CD (12/3)
Dora the Explorer: Celebrate with Dora DVD Set (12/3)
Big G Cereal and DC Comics Prize Pack (12/3)
Carmex Healing Lotion and Cream (12/3)
Rockboard Scooter (12/10)
Modest Middles Nursing Tank (12/10)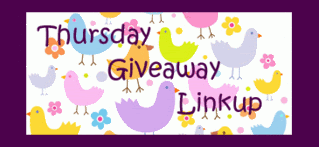 Now it is your turn!  Please use this format so everyone is consistent:   Giveaway item (end date)
Please link directly to your giveaway (not your blog).  When you are finished, I would love a comment and a tweet of this post (click on the Twitter icon above the post).
Note: Spam entries will be deleted!