Can you believe it is already Thursday? This week is moving right along! I have a lot of good things going on around here lately. Have you seen my Google+ tutorials yet? I am adding to those often so if you are feeling uncomfortable with Google+, keep an eye out for more. Be on the lookout tomorrow for another giveaway that includes a Kindle Fire, Amazon gift card, and Paypal!
But, for right now, these are the giveaways I have open:
VeggieTales: The Little Drummer Boy DVD and O Holy Night CD (12/3)
Dora the Explorer: Celebrate with Dora DVD Set (12/3)
Big G Cereal and DC Comics Prize Pack (12/3)
Carmex Healing Lotion and Cream (12/3)
Rockboard Scooter (12/10)
Modest Middles Nursing Tank (12/10)
Cheerios Cheer Prize Pack (12/10)
Carlito C. Caterpillar's MathHouse Game Card Set (12/17)
Wishing Watch *7 winners* (12/17)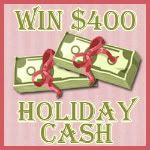 Now it is your turn! Link up your giveaways!
Please use this format so everyone is consistent:
Giveaway item (end date)
Please link directly to your giveaway (not your blog). When you are finished, I would love a comment and a tweet of this post (click on the Twitter icon above the post).
Note: Spam entries will be deleted!