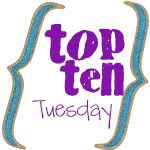 Top 10 things I know I will do today:
Life as a SAHM can be unpredictable. I sometimes get to do the things I want and need to and sometimes those get put off for another day. These are the things I know I will do today.
1. Go school shopping. I have to take Mackenzie to get her school supplies. Open house is tomorrow!
2. Pack the kids bags for school. This includes labeling all their supplies. Fun!
3. Spend some time on the computer. I list that because I am on it now. 🙂
4. Play with Johnny. Right now, he is playing with the daycare kids. I will play with him later today though when they are gone.
5. Feed Joley. I already did this a few times today. This will be about an every 4 hour event. All day, every day.
6. Clean. I need to clean up my kitchen. I don't know how, but my husband and kids can make a mess of it in a split-second.
7. Laundry. I need to get my husband's laundry done and the kids' laundry started. I need to make sure they have clothes for school on Thursday.
8. Change diapers. Again, all day, every day. I wonder how many diapers I have changed over the past 3 years. Hmmm
9. Make lunches. I will be reheating leftovers for dinner but will be making lunches for the 3 kiddos here and Joley.
10. Sleep. I purposefully put this one last. It is the one thing I want to do more than anything and will likely do the least.
Click the button at the top of the post and check out more Top 10 Tuesday posts at OhAmanda.
While you are here, check out my Giveaway!