As you know by now, we love VeggieTales.  With the most important holiday coming up (Christmas), I really focus on making sure my kids know that the holiday is not about gifts but about Jesus' birth.  We even do the 3 gifts each year to show that lesson more.  My kids need to know the true story of Christmas and the importance of this time… which is becoming increasingly easier thanks to private school and VeggieTales!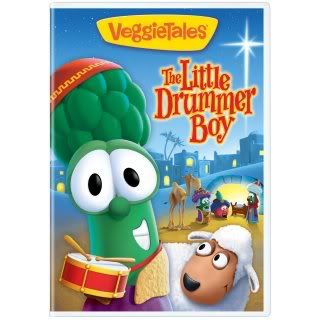 We received a copy of The Little Drummer Boy on DVD and my kids fell in love.  "In this Veggie-version of a holiday classic, Junior Asparagus stars as The Little Drummer Boy, a lonely child who finds the true meaning of Christmas when he stumbles upon the birth of the baby Jesus. A story of hope, love, and forgiveness, this timeless tale will warm the hearts of children everywhere!"  This has been a big hit with Joley and I expect it to be watched even more as Christmas gets closer.
Along with the fantastic The Little Drummer Boy DVD came O Holy Night:  Journey of a Little Drummer Boy CD.  My kids haven't delved into this as much but I love the music myself.  I especially love that I can put it on and walk away and not worry about what they are listening to.  VeggieTales are always good for that!  I will be pulling this out in a few weeks to get ready for Christmas.  Right now, I am not quite ready for Christmas music but it will be used more in December!  We have to get through Thanksgiving first!
Here is the track listing:
Hark the Herald Angels Sing
Do You Hear What I Hear
It's About Love – featuring Wynonna Judd
Can't Smile Without Ewe
Meant to Be – featuring Steven Curtis Chapman
Silent Night
What Child is This / The First Noel
Give This Christmas Away – featuring Amy Grant & Matthew West
Oh Holy Night
Away In A Manger
The Little Drummer Boy – featuring BeBe and CeCe Winans
Good stuff, right?  Well, I think that both the DVD and CD are perfect for a stocking stuffer or gift this holiday season and these fabulous products have both made my Must-Have Christmas Gift Guide for that reason!  You can purchase either at VeggieTales.com, Walmart or wherever DVDs are sold!
I am super excited to be able to give one winner a copy of both The Little Drummer Boy DVD and O Holy Night: Journey of a Little Drummer Boy CD!!
How to enter: The mandatory entry must be completed in order for all others to count.  All entries must be recorded into the Rafflecopter widget.
You May Also LIke: