So, here is the deal. My job is keeping me busy… very busy.  I haven't been able to get on the computer much the past week.  I was on-call over the weekend and tired so I didn't do any catching up either.  I missed WW last week.  (sad)
Here is a picture I got of Jemma this week on my (new) phone.  I miss her like crazy during the day and take a lot of pictures of her to have handy for those times when I need a baby fix at work.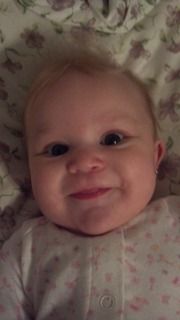 Can you see her earrings?? I had her ears pierced last weekend. They haven't bothered her a bit!
Add your WW posts!