Knowing that my baby girl could come any day now has me thinking about the birth of my first two children.  Johnny was a little guy at only 6lbs 7oz and was born by cesarean at 37 weeks 6 days.  Joley was a big girl weighing 9lbs 6 oz, born also by cesarean at 40 weeks exactly on her due date.  They were very different babies in more than just their weight.  I am at that stage in pregnancy when all I want is to hold my little girl.  I wonder what she is going to weight, what she is going to look like… I just wonder.
Here are pictures of my babies shortly after they were born.
Johnny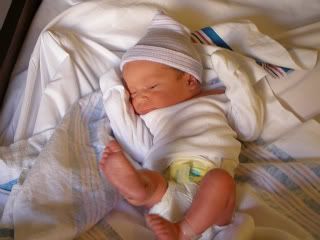 Joley
And both of them shortly after Joley's birth… this was exactly a week after she was born.

I can't wait to be able to share pics of baby Jemma!
After you link up on my linky, if you want to link up more, head over to any of the following (or all of the following)! Slice O' Heaven, 5 minutes for Mom, and Mom Spotted.