I find that Halloween costumes for tweens and teens seem to be the worst ones to find.  I refuse to let my tween daughter walk around in a costume that is more suited for an adult (or even sometimes not them!).  I want her to have fun, to look cute, and to be appropriately dressed for her age.  For a tween or teen, there is a fine line between childish and mature though.  When I perusing BuyCostumes.com, I was pleasantly surprised at the number of costumes available for tween sizes… made specifically for that age range.
The costume we chose for our 11 year old this year is super cute and trendy, but not something I have to be concerned about her wearing.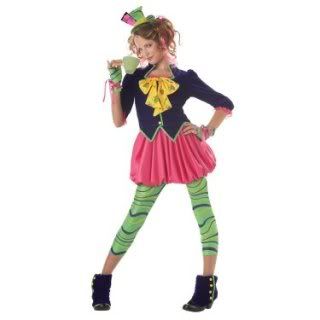 This is the Tween Mad Hatter Costume, which retails for $39.99!  What you get with this costume is the following:  Jacket/Skirt, Leggings, Hat, Glovettes, and Shoe Covers.  I love that this costume comes with shoe covers because that tends to be a problem every year.  I also love that it comes with the leggings because it is often chilly hear on Halloween.  You can purchase separately some shoes, colored hair piece combs, and glitter makeup.
I am so impressed with this costume and I am sure our tween daughter will have a great Halloween in it.   One thing special about BuyCostumes.com is that if your costume does not fit, they will pay the shipping cost on your exchange.  So, hurry and order now.  If you are like me and have some trouble picking a size, you won't be out a costume!  Just return it on BuyCostumes.com and have the right size sent to you!
In addition to Halloween costumes for adults, kids, and tweens, and teens, you can also find Halloween party supplies, mascot costumes, and pet costumes.  BuyCostumes.com is your one-stop shop for Halloween!
Disclosure: We were sent the product mentioned for the purpose of review. All thoughts and opinions are my own.