If you like action games, then I have a treat for you!  We recently were able to review the new app for the iPad/iPhone called Sky Gamblers: Rise of Glory.  Unlike other games I have reviewed up until now, this is a difficult game and takes time and practice to get good.  I haven't played it much but my husband has and he said that he needs to be able to spend more time to play well but that he does enjoy the game a lot.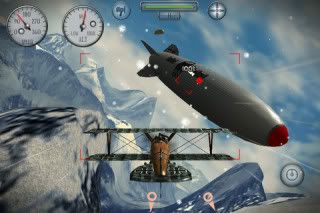 Immerse yourself in WWI combat and the dawn of aerial warfare as you pilot revolutionary flying machines.  Take-off solo in mission-based Campaign Mode, or take to the skies online with up to 8 players in real-time multiplayer. Put your flying skills to the ultimate test against players from all over the world!
Yes, you can play people online! That makes this game a bit more of a challenge and a bit more interesting.  I like that you can choose from a long list of realistic WWI planes and perform dizzying acrobatic maneuvers. It is interesting to me how it all works on the iPad… with an intuitive combination of touch-screen and accelerometer controls.  My husband likes that he can engage in fierce air-to-air and air-to-ground combat.
Do you want to join in the pursuit of glory?  You can purchase Sky Gamblers: Rise of Glory from iTunes for $4.99.
Disclosure: We were given the product mentioned for the purpose of review through Game Review Network. All thoughts and opinions are my own.