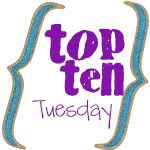 Today for Top Ten Tuesday, I am going to give you a glimpse into my pantry and refrigerator. Exciting, huh?
Top Ten things I must have on stock at all times or I will go crazy and not be able to cook and my family will starve(whew!)
1. Cream soups. I make all kinds of crazy meals (aka made-up) with cream soups. I keep cream of mushroom and cream of chicken in my pantry at all times.
2. Onion soup mix. I don't think I could make half my meals without it. I use it in bread, on meat, in casseroles. It is a necessity.
3. Cheese. Do I really need to explain this one?
4. Milk. Not only for drinking but also cooking. Milk does a body good.
5. Bread. This is really a lunch time thing but I have become quite loony about bread. I buy it at Sam's Club and then freeze at least 3 loaves. If there ever is a natural disaster, I got the sandwiches covered!
6. Canned and frozen veggies. I don't really care if they are from a can or frozen. We must have some on hand in order to have a side for dinner.
7. Hamburger meat. I get all kinds of stressed when we don't have hamburger. It is like my mind goes blank on what to make if there is no hamburger in the house.
8. Frozen chicken breasts. It must be frozen. I can't touch raw meat. Ick!
9. Peanut butter crackers. These have been a staple in my house for years. I personally rarely eat them but my kids do. Johnny loves him some crackers and I like to have them on hand (and even in my purse) for when his sugar level drops. The protein is always a great pick-me-up for him.
10. Crescent rolls. I use them for a variety of recipes. I say recipes very loosely. I don't cook from recipes. I am a fly-by-the-seat-of-my-cookbook kind of girl.
If you want to add to the Top Ten Tuesday, head over to Oh Amanda. I would love to know what your pantry/fridge staples are while you are here. Maybe I can add to my ever-growing list of things I must have in order to survive.